Andy, as always having you represent us was a pleasure. In a field with so many people for us to work with, having a team that we truly trust makes the whole experience that much less stressful.
Thank you again!
David and Josee
---
"As first-time home buyers, we entered into the market unsure of what we were looking for, even what city we wanted to live in.
Andy was quick to offer us options, with a wide variety, allowing us to narrow down our preferences and which neighbourhood we wanted to be in.
It was a process spanning multiple months but Andy's attention to our search and patience, while we worked through it, was unwavering.
When we finally found our perfect home, Andy was quick to get the paperwork together and walked us through our first home buying experience smoothly; making it a very easy process.
We highly recommend Andy - And, hope to use him again in the distant future for our next home purchase/home listing.
Thank you Andy!.....
Cole and Joelle
---
The sale of our wonderful home for 22 years was an emotional and physically draining event. Thankfully the help and guidance of Andy and his team was a calming presence during this time. They were readily available at a moment's notice, no waiting for return calls or texts. Not having much experience in real estate in our life, the first step of contacting a realtor seemed daunting. A referral from our children was immediately pursued and we could not have been more pleased. The whole process ran like clockwork and low key, no pressure just good service.
Thank you to Andy, Nina and the rest of the personnel involved in the sale.
We would gladly recommend Andy Schildhorn and Nina Gatchalian at Macdonald Realty should we be asked.

Cheers…..Henk and Arlene
---
Thanks to Andy and Nina for their help in the purchase and selling of our homes. Andy is straightforward and has a lot of good advice and led us through the process with ease. Andy and Nina were always accessible by whatsapp, call or email. The stager advice was very helpful and the photos and video of the home were beautiful and something we will keep to remember our old home.
Andy is an open-hearted guy and we had no doubt that he had our best interests at heart. Thanks so much
!
Doris, Eva and Julio
---
Working with Andy was a great experience! He was so knowledgeable and understanding and made the process of selling our condo so easy. There was a lot of care taken, from the video tour to the constant communication - I could not have asked for a better person to help us with the sale. I highly recommend him to anyone looking to buy or sell a home. Thank you so much, Andy!
Charlotte Furneaux
---
I'd like to express my appreciation for the top-notch service that you and Nina provided throughout the purchase of our new home and sale of our old house. We were very satisfied with the entire process.
Most of all Dal and I were very impressed with the level of communication and responsiveness. We always felt that you were "one step ahead" of us, guiding and advising us through the process. As busy professionals, this was the kind of efficiency that we were hoping for and you definitely delivered!
Urmila
---
We are so happy in our new home. Thank you for making the transition to our new home exceptional. The staging was excellent and I believe it was a positive factor in selling our home. I look back at the pictures your photographer took and they look beautiful. I will be sure to recommend you to family and friends.
Tom and Sue
---
Our experience with selling our condo through Andy was the best experience ever! He was able to do an amazing job showing the place and got above what we had expected to sell the unit for. It was a shock in the best way. Thanks again Andy and Nina for going above and beyond for us!
George and Soo-Jean
---
We would like to extend our sincere gratitude to Andy Schildhorn and his team for the sale of our home. Andy's calming demeanor, reassuring words and professionalism smoothed and simplified what is always a very stressful situation. We have already recommended him to aid a family member in their property sale and will continue to advertise his great work. Thank you.
Lee and Jeanine Marshall
---
We've had the pleasure to work with Andy a few times! To buy and sell and both processes were a breeze! Andy and Nina are an amazing team that helped us through every step of the way. They truly go above and beyond and we are so thankful!
Matt and Brooke Keller
---
Thank you, Thank you, Thank you!!!
You have made this process so much easier and have put up with us silly hillbillies. Wishing you both many blessings and please come visit us in our new home
Egon and Benita Warkentin
Selling my house with Andy was a great experience. Being out of town, it was not a simple task and with Andy I did not have to worry about anything. Andy is very knowledgeable about real estate and he handled everything with great professionalism and kindness. He even went out of his way to help me with additional administrative tasks. I would wholeheartedly recommend Andy to anyone who is looking for a very reliable real estate agent.
Carole Bonanni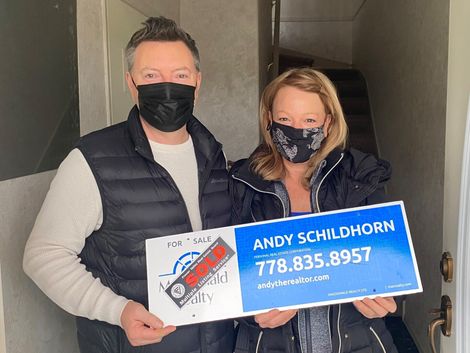 When I came across this listing, Andy you were very accommodating with your time and efforts. I believe that we achieved the best price possible on the purchase which I very much appreciate. Andy, your knowledge and experience in the area is comparable to none which is why I feel very comfortable dealing with you on life's largest assets. The closing dates and documentation aspect of buying a home often gets overlooked but as we know lately, it can be stressful. Your help in seeing everything completed in a timely manner was certainly helpful. Take care, and again, job well done!
John Anderson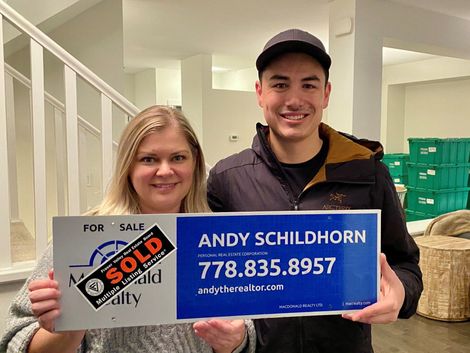 We had been considering a new home for our growing family for the past couple years. Along the journey a friend recommended that we speak with Andy. We are so glad that we took her advice! From the moment we met Andy we felt at ease, instantly comfortable and fully trusting that he had our best interests at heart. Andy set us up on his hot sheets, which helped make the search process so much more efficient. He then toured us around multiple neighbourhoods and homes, always being very prompt, informative and patient with us. His advice was unbiased and he helped us find what was truly the best fit for us. In the end we found an incredible home in our dream community that checked off all of the boxes. We can't say enough good things about Andy and Nina, their high level of service and care for the people they work with.
Landon and Lisa Folz
---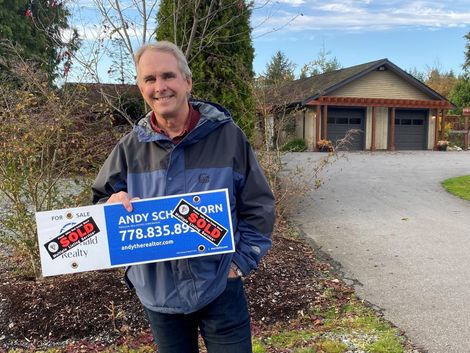 We had the pleasure of working with Andy in arranging the sale of our home in Langley recently. Throughout this process Andy and his team were exceptional in aligning our expectations with their service delivery, providing excellent and professional staging, marketing, and selling options. This careful planning and preparation resulted in a smooth and expedited sale. This was especially appreciated due to the pandemic situation which added a level of unexpected complexity to the process. I can wholeheartedly recommend him to any potential real estate Buyers or Sellers in the Fort Langley and Langley areas.
Dr. Alister Frayne
---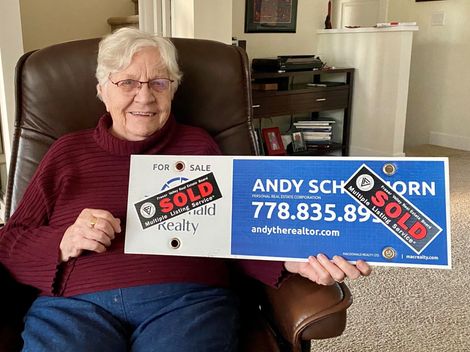 I am happy to recommend Andy as your realtor. He is always interested in doing the very best for his clients. He has just sold my condo for me and I am very happy with the results. You will always find him to be honest, and a person you can trust.
Isabel Brew
---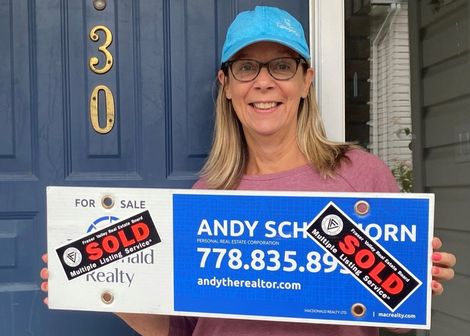 Working with Andy on my recent townhouse sale has been a wonderful experience. We had a lot of exposure through multiple media options and he kept me in the loop on all activity. I always received market updates and comparables so I felt comfortable with the pricing. The professional protocol for Covid viewings was adhered to so everyone felt safe. And he even had to constantly corral our Houdini cat! He and Nina addressed any issues or questions immediately and I couldn't be happier with the final results. This is my 3rd time working with Andy and I highly recommend him if you're considering a move.
Blodwyn Bristow
---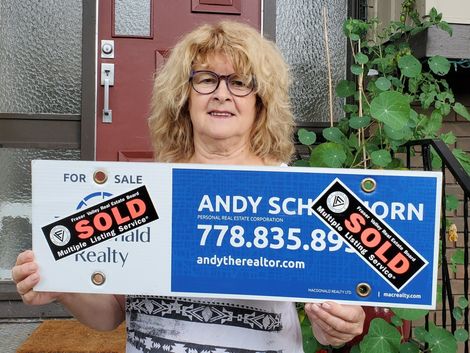 Hi Andy and Nina, thank you ever so much for taking such good care of all the necessary details involved in selling and purchasing my home. The video, Matterport 3-D, and photos which were created to list my home, were very professionally done and got amazing reviews! Also, your help with supplying a staging consultant for the sale was such a relief! During this time of Covid 19, you took all the required precautions of supplying hand sanitizer, informing the other realtors to wear masks, limiting the numbers of buyers in my home at any given time, and having viewings by appointment only. Your patience with showing me multiple homes in many areas of Langley and White Rock was very much appreciated during one of the most stressful times...complicated by Covid. Thank you ever so much. I would highly recommend your team effort to anyone looking for a realtor to sell or purchase a new home!
Margaret Ann
---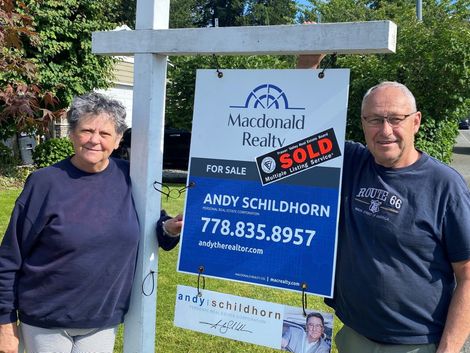 We have been working with Andy and Nina for many years searching for a house. We were very specific in what we wanted and after looking fo awhile and did not find what we were wanting, we would take a break. We would continue again a year or two later and then take another break. Andy would take us from place to place and never complained and was very patient with us. We finally found a place which Andy assisted with the purchase and then listed our existing house which had a number of issues. Andy brought out his team and put out an excellent brochure with very professional pictures, video and assisted us with the staging of the house. After dealing with the COVID slowdown and issues we were finally able to sell our home. Both Andy and Nina were very professional, patient and assisted us with the whole process. We were very appreciative of their hard work and would recommend their services to anyone selling or purchasing a home.
Bruce and Jane Funk
---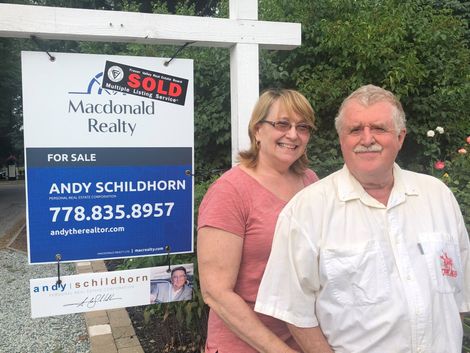 This is long overdue. I would like to say it has been a pleasure working with Andy Schildhorn and his coworker/wife Nina. Andy helped sell our house in Fort Langley back in summer of 2019. We got a very good price for our home. But his real work was after the sale. Finding us the house and property that was the correct fit. Left our house in September and finally took possession of our new project on February 29 2020. We have been a test for Andy and his crew but he has been kind and understanding from the word go. Thank you Andy for sticking with us.
Colleen and Mike Boivin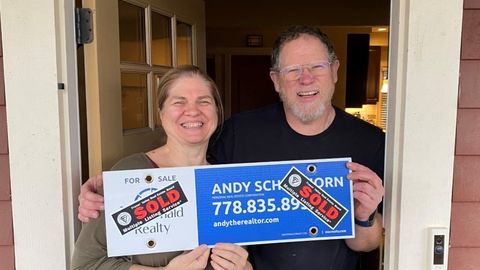 ...almost lost the house we ended up buying. But Andy saved it all, and hand held us through the very stressful process of moving out of a strata into a full home. We can't thank him enough. His caring and personal touch made us feel well taken care of. The catered meal on moving day was an unexpected bonus. Andy, you are now our new favourite real estate guy and we will be long and loyal customers. Thank you for all your hard work.
Bryan and Cynthia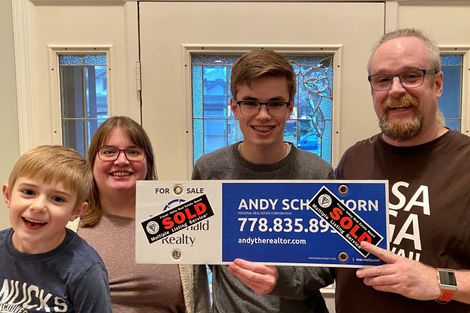 We have known Andy and Nina and their family for more than ten years, and recently got the chance to work with them on our purchase and sale in Walnut Grove. This year was an extremely tough market, and Andy helped us navigate through the stormy seas. Andy provided us with detailed market data, straightforward advice, and excellent marketing for the sale of our townhome. This took a long time - but the constant communication and positive energy from both Andy and Nina really helped get us through. When it came time to purchase a home, Andy worked very fast to get us the deal on the home we wanted. We couldn't be happier with the service Andy and Nina provided and we would happily recommend them to anyone who needs a dedicated professional to help with their real estate transactions.
Jeff and Sefani Hacker
Andy is our realtor for both the sale of our current home and the purchase of our new home. He is extremely knowledgeable and professional, knows his market and is totally customer focused. Always prompt and reliable with accurate, detail orientated information. In addition, he has great humor and is an absolute pleasure to work with. I highly recommend Andy to anyone who needs an experienced realtor whom they can trust.
Selin and Wolfgang Schmelcher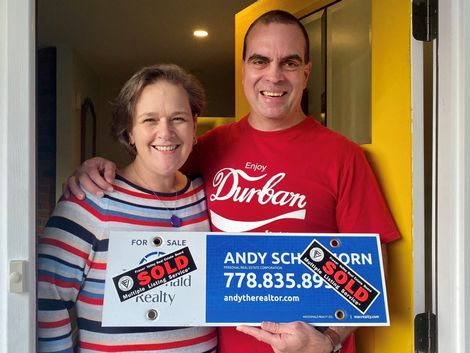 Andy was very easy to talk to and made everything clear and simple. I thought the whole experience of selling was going to be a huge hassle. With Andy, it wasn't.
Greg and Lisa Butt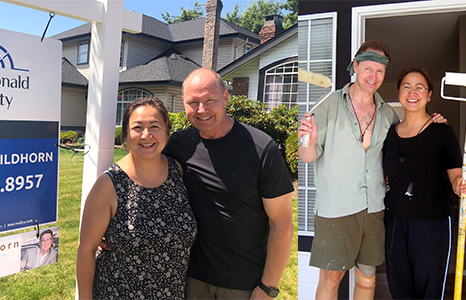 "We were so happy with Andy as our realtor when we were "buying and selling" 15 years ago that we decided to call on him again without any hesitation. We were concerned about the current market situation but we know from experience that we are in very good hands with Andy who has a deep understanding and expertise in the local area. Andy always kept us in the loop about the local real estate market, house viewings, viewer comments/questions, virtually any and all matters regarding the sale of our house. He supported us every step of the way, from the very beginning by recommending a house staging expert and right to the end by recommending a notary public...all very capable professionals. We will continue to recommend Andy to our families and friends."
Maria and Ron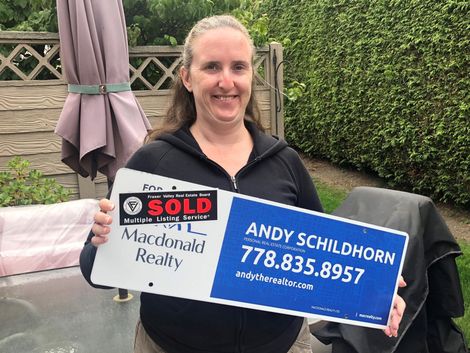 Thanks for all the help in purchasing my new home from half a world away. I couldn't have done it without your knowledge and experience!
Sheryl Appleby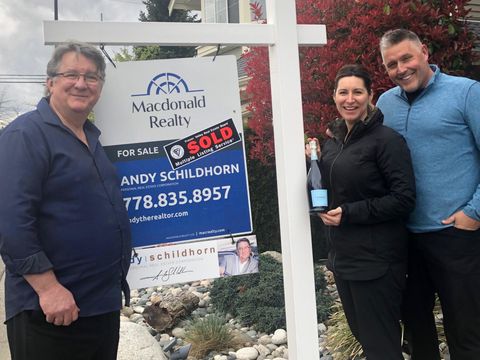 "We sold, and sold and sold again! We've had the pleasure of working with Andy & Nina on three separate occasions. Relying on their expertise we achieved 'triumphant results'. In each instance, they helped us to navigate through the sale process with relative ease in an uncertain market. Andy's professionalism, calm demeanour and attention to detail provided the necessary reassurance we needed during a stressful time. His extensive experience, no pressure approach and advanced marketing strategies are what set him apart from others. Working together, his wife Nina's cheerful personality made asking questions easy for us. Her market knowledge, exceptional organizational skills and
ability to seamlessly coordinate showings ensured minimal disruption to our daily lives. If you're serious about selling a property, this team truly offers 5-star service and we highly recommend them."
Justin & Brigitte Harris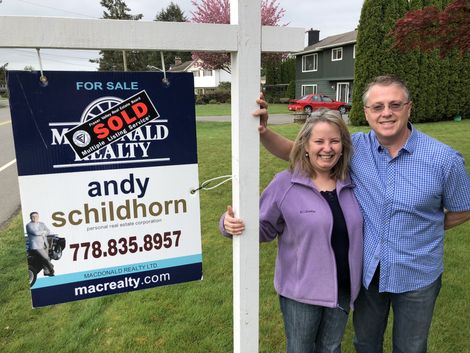 "Andy Schildhorn is a great realtor and without hesitation, I would refer him to anyone selling or buying a home! In 2005 and 2018, we enlisted Andy to sell and buy our homes! Within a week, our '05 home sold and within 2 days our '18 home sold! Andy made the daunting task of listing our home relatively stress-free. He is great with the details and did a thorough job advising us how to prepare our homes to show. When buying, Andy was extremely patient and knowledgeable. On more than one occasion, we appreciated his expert opinion which kept us from pursuing properties that he felt would not really be suitable. His experience was invaluable to us! There was never a time that we felt that we were wasting his time. He always assured us that he would be available to show any home that we were interested in and to not worry that we were taking too long because we would eventually find "the one".
Linda and Kevin Wack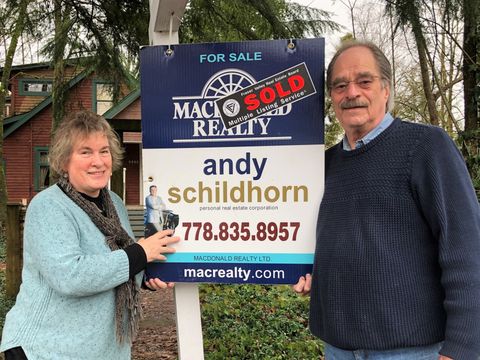 "I am writing to thank you and Nina for your gracious and careful attention. As I joked to you the other day, it's people like you that give real estate agents a good name. We were particularly pleased with your friendliness and good attitude to all our concerns, your efficiency and recognition of our love of our house, your easy tolerance of our many anxieties. Both you and Nina have been a delight. We feel more than we have made friends than encountered professionals."
Terry Strafford & Harvey DeRoo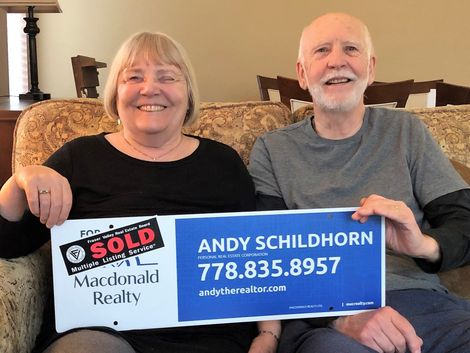 "We've used the services of Andy and the indispensable Nina twice and the attention to detail has been exemplary on each occasion. He represents his clients admirably and is always available to answer questions and ease the stresses. He has deep knowledge of the local market and in our case was able to dismiss the so-called comparables the buyers realtor had brought to the table. The professionalism and marketing prowess he possesses are all to evident in the way he "shows" properties. I cannot speak too highly of his team and in this market you couldn't do better than use the ablest realtor around."
KATE AND ROB SHAW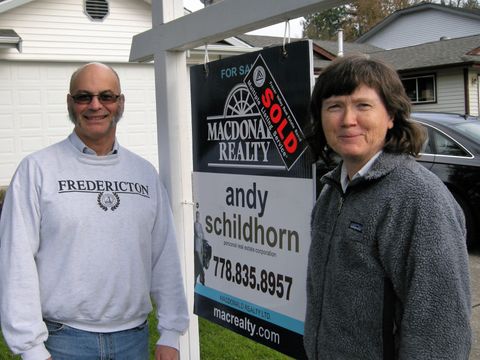 "We selected Andy based on his extensive work in Langley. With many years in the real estate business, he had the experience to deal with changing markets. We were not disappointed. Andy marketed our home professionally, and strategically. We had many pre-open house showings, along with one open house that brought our home to a quick sale in about a week. We were impressed by Andy's dedication to the sale of our home, and he was able to guide us to make the right decisions. Andy was professional, easy to talk to, and is an excellent communicator. We knew what was happening every step of the way. We highly recommend Andy for buying or selling a home."
Colleen and Harry